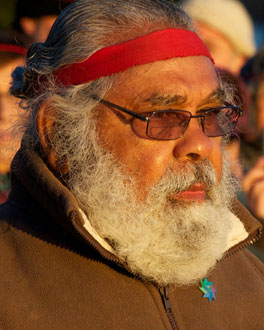 Yuin elder Uncle Max 'Dulamunmun' Harrison
Uncle Max is an initiated Yuin man, is the knowledge holder and teacher of the guides at NNCA. They have undertaken his teachings passed down to him by 5 masters of Aboriginal Lore. Uncle Max is a widely respected elder, he has been on the National Board of Elders, released several books on Aboriginal Culture including 'My Peoples Dreaming', given knowledge and is a recognised teacher of the University of Wollongong.
He led the opening Traditional Ceremony for Sydney 2011 and 2012 Australia Day Celebrations and is well respected all along the South Coast of New South Wales with his work as a community elder in his native Yuin country, although his involvement on walks on country are now limited he still plays a vital part in NNCA by advising and overseeing his family uphold and share Yuin culture.